Our customers have been involved in lots of shows over the summer and now into Autumn, see what they've been up to below:
ALICE BROWNE12 September – 11 December 2011
Jerwood Project Space at Café 171, Jerwood Space
This exhibition brings together a new body of work by London-based artist Alice Browne. Browne's paintings are built up from layers of colour which, due to way they are loosely applied, chart the different stages of their production. From these layers of paint awkward spaces and shapes emerge in which, as the artist describes, 'the material presence deliberately undermines the space created: colours and brushwork wrestle for prominence over form'.
12 September – 11 December 2011
Jerwood Space, 171 Union St, SE1 0LN
Opening Times: Mon - Fri 10am – 5pm, Sat 10am – 3pm;
Closed Bank Holidays, Admission: Free
Nearest tube: Southwark, London Bridge or Borough
To see more of Alice Browne's work visit her website:
http://www.alicebrowne.com/
To see more information on Jerwood Visual Arts visit:
http://www.jerwoodvisualarts.org/

------------------------------------------------------------------------
EXETER CONTEMPORARY OPEN


Exhibition Open Thu 15 Sep - Wed 2 Nov 2011


http://www.exeterphoenix.org.uk/galleries/
Jamie Boyd | Theo Cuff | Robert Foster | Bryony Gillard
Michael Iveson | Conor Kelly Mindy Lee | Laura Phillips
Stuart Robinson | Srinivas Surti | Molly Thomson | Alicia Tsigarides
Paul Vivian | Jenny Wiener | Zierle & Carter
Phoenix Gallery has announced the fifteen shortlisted finalists for Exeter Contemporary Open 2011 selected by Hannah Firth, curator of
Chapter
, Cardiff; Charlie Tweed, previous prize winner and curator of
Alma Enterprises
, London; and Phoenix Gallery curator Matt Burrows.
For more information on Mindy Lee's work see her website at:
http://www.mindylee.co.uk/
------------------------------------------------------------------------
C MOREY de MORAND
SOLO SHOW: 'WORDS'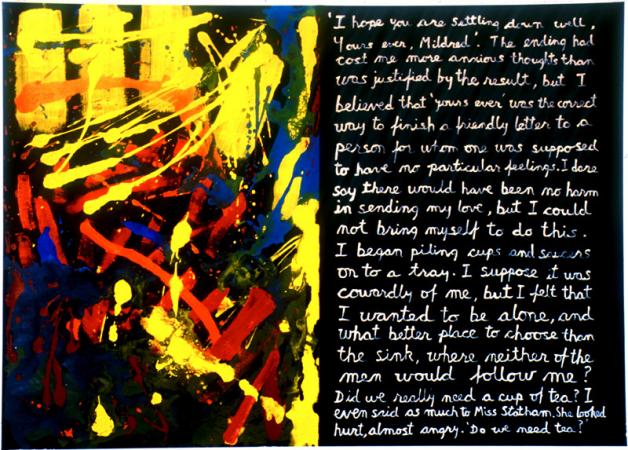 ------------------------------------------------------------------------
MARTIN GUSTAVSSON
see more of Martin Gustavsson's work at:
http://www.martin-gustavsson.com/
------------------------------------------------------------------------
A new open studios event for NW10
1st – 2nd October 2011, 1-6pm
------------------------------------------------------------------------
ALEX CALINESCU / DEPTFORD X OPEN STUDIOS
Acme Studios

165 Childers Street

Deptford

London

SE8 5JR
Friday 23 September 1800 – 2130 / Saturday 24 September 1200 – 1800 / Sunday 25 September 1200 – 1800 and by appointment
2011-94128-10

soft pastel and pigment on acrylic

239 x 325cm

Alex Calinescu

2011
Alex Calinescu will be opening her studio in September as part of Deptford X 2011
Aside from exhibiting a new group of works on canvases, this will be the first time her oil paintings on aluminium panels and series of monoprints will be shown
------------------------------------------------------------------------
In September Victoria Heald and Biddy Hodgkinson will be showing at:
DEBUT CONTEMPORARY, THE SEPTEMBER ISSUE
82 Westbourne Grove, London, W2 5RT
FEATURED ARTISTS: Abigail Box, Achilles Kapsalis, Agnetha Sjogren, Aida Emelyanova, Ailish Sullivan, Ash Chinnock, Azadeh Fatehrad, Bea Gibson, Beth Nicholas, Biddy Hodgkinson, Brendan Wilson, Carlos Burgos, Chantal Powell , Chris Edwick, Darren MacPherson, Eleanor Barreau, Flavian Alaigre, Guy Haddon Grant, Henry Wood, Hideyuki Shoji, Ivy Chan, John Seaward, Kate Bloomfield, Katerina Stavrou, Katherine Tromans, Kerry Royle, Kimi Wylde, Laura Mathews, Lauren Bowker, Lauren Drescher, Lyndsay Martin, Mandy Webb, Margaret Ashman, Marina Jijina, Nicola Anthony, Oliver Needs, Rachel Noble, Robert West, Rosie Emerson, Ryan Noble, Sebastian Oholeguy, Senghye Yang, Sylvia Krupinska, Tahnee Lonsdale, Victoria Heald, Vikram Kushwah
------------------------------------------------------------------------


DAVID PRENTICE


To celebrate the artist David Prentice's seventy fifth birthday there
are solo exhibitions of new and retrospective paintings and drawings
at four galleries in central England in July and August 2011.

The exhibitions will comprise a body of current works in oil,
watercolour and pastel and also range across a period of more than
twenty years of the artists work. The earliest work from 1984 being
shown at the John Davies Gallery

Monnow Valley Arts, Walterstone, Herefordshire HR2 0DY
tel: 01873.860529 2 July until 28 August 2011
who will be showing a retrospective group of recent paintings and wood
engravings of Malvern Hills, Herefordshire lanes and London

John Davies Gallery, Moreton in Marsh, Gloucestershire GL56 9NQ
tel: 01608.652255 16 July until 6 August 2011
70 new works and a retrospective look back to 1984.

Number Nine the Gallery, Birmingham B1 2HL
tel: 0121.643.9099 9 July until 24 July 2011
New pastels of the Malvern Hills and London

Riding High, Malvern, Worcestershire WR14 4RB
tel: 01684.569069 through July 2011
Small oils based on the Malverns

------------------------------------------------------------------------